Contact Us
Medical Plaza South
3911 Avenue B, Suite G200
United States
The Rehab Center's cardiac rehabilitation program emphasizes exercise and education to decrease risk factors and improve the health of patients with heart or lung disease. The registered nurses, respiratory therapists, registered dietitians, registered pharmacists, physicians, and cardiologists take great care in advancing patients' physical fitness in a controlled, safe environment as well as adopting a healthier lifestyle.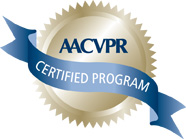 Our cardiac rehabilitation program is nationally certified by The American Association of Cardiovascular and Pulmonary Rehabilitation (AACVPR) and goes through a rigorous process to meet and exceed the essential standards of care for cardiac rehab patients.
Our team has years of experience and specialty certifications specific to the care of cardiac and pulmonary patients. They serve as consultants and educators to their patients, spouses, and other employees, as well as the community, by providing heart healthy education in their daily work. 
Cardiac Rehab
Cardiac rehabilitation is designed to give each patient an individual plan for recovery from heart disease or surgery. Cardiac rehabilitation is an outpatient exercise and education program designed for people recently diagnosed with heart problems such as:
Heart attack
Angina
Coronary artery bypass or heart valve surgery
Angioplasty and stents
Congestive heart failure
In an effort to help patients reach and maximize their goals, the Rehab Center's cardiac rehabilitation program offers:
Medically supervised exercise
Personalized risk factor management
Treatment compliance monitoring
Individualized education
How does cardiac rehabilitation work?
Your physician or provider will refer you to cardiac rehabilitation following a heart event. Cardiac rehabilitation meets three days a week for around 60 to 90 minutes. You will gradually increase your activity while nursing staff monitors your EKG, heart rate, blood pressure, and exercise tolerance.
We offer weekly education classes designed to help you learn more about your heart and treatment. Regional West's dietitians, pharmacists, and other employees will help you make changes to reduce your heart disease risk. Our patients often remark how much more confidence, energy, and physical ability they have after cardiac rehab. Most insurance, including Medicare, approves outpatient cardiac rehabilitation.