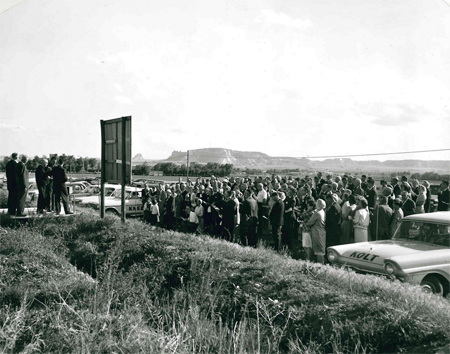 On April 15, 1924, the West Nebraska Methodist Episcopal Hospital opened at the corner of 18th and Broadway in Scottsbluff. A staff of 25 welcomed the first seven patients that day.
The building was intended to be a hotel, but was never completed. With support from the Methodist Church, local businessmen and the Chamber of Commerce joined together to raise money to purchase the building for use as a hospital.
Later that first year, on October 20, the School of Nursing opened with a class of four. The school was the first of several programs developed during the past century to train skilled health care staff.
During its 95-year history, the hospital has changed its name three times to: West Nebraska Methodist Hospital (1928), West Nebraska General Hospital (1954), and finally to Regional West Medical Center (1988).
It has grown to become one of the largest employers and biggest industries in western Nebraska.  All of its growth is the result of hard work and generous donations from dedicated community members who recognized the need for a hospital, the need for improved care, and the need for better facilities and technology.
Regional West Medical Center has always been a community hospital ― paid for by the community, supervised by a volunteer board of local citizens, and improved by contributions from volunteers and friends who continue to donate their time and talent to ensure quality health care for the future.
In celebrating our 95th Anniversary, we thank our providers and staff, hospital volunteers and board members, Regional West Foundation donors, and all patients and families who trust their health care to Regional West Medical Center. 
Enjoy our 95th Anniversary video.