The Regional West Air Link program was awarded a full three-year accreditation in 2019 by the Commission on Accreditation of Medical Transport Systems (CAMTS). CAMTS is a nationally recognized organization that ensures that medical transport programs meet national standards for safety, education, and training. The Air Link program has been CAMTS accredited since 2001.
CAMTS first enacted its Accreditation Standards in 1991, which were developed by its member organizations as well as with extensive public comment and input. The Standards are the core element to the CAMTS program, which declares that the highest priorities for medical transport services companies are "patient care and safety of the transport environment."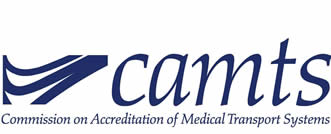 Patient care and safety are Air Link's top priorities, and the team holds monthly safety meetings that include not only pilots, but mechanics, flight crew, Air Link management, the medical director, security, facilities, and environmental services. In addition to flight critiques, meetings include educational topics that pertain to safety, such as the use of night vision goggles and going through case scenarios.
Air Link is one of four CAMTS-accredited medical transport programs in Nebraska and has been accredited since 2001. Nationwide, 182 programs have earned CAMTS accreditation.