Contact Us
Medical Plaza North
Two West 42nd Street, Suite 1300
United States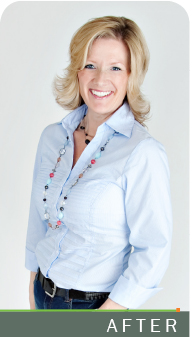 As a child I had always been 'pleasantly plump.' Having a mother who never had a weight problem presented problems of its own - my mom just never understood how I could be overweight. I had two children in 1990 and 1992, and I have to say that having kids sure can do wonders to a woman's body and metabolism. It's been a struggle ever since. Fast forward to present time, I found myself in a relationship that was dead. I guess I just coped by finding comfort in friends...which typically involved food. Eating is a very social thing to me, so heading out for dinner was a great thing to do to fill in the time where I'd typically be home alone. Food was my friend and made up for what I lacked in my marriage. 
After buying the biggest size of pants I have ever bought, I decided it was time to implement change. I just wasn't sure how or what. One day at work a quiet and unassuming woman who sat one row over from me stopped to chat with me in the hall. She shared with me her experience and success with Lap-Band surgery. I was sooooooo impressed that I got right on it. I had a consultation with my PA and she recommended me to the clinic in Scottsbluff. As I sat through my orientation I looked around at the other people in the room and remember thinking...wow...I am thin compared to these people. As I look at my picture from the day of surgery, I realize no...I was not thin. Perception is a funny thing. 
I received my new lease on life on August 14, 2007. I am now three years out and have lost 116 pounds. I have gone from a size 24/26 to a size 6/8. It's very odd being smaller and my mind still hasn't shifted gears in terms of seeing the new me. It is also interesting the way the world reacts to me now that I am a normal weight!! I am currently working on maintaining my weight which still can be a challenge. I rely on my surgeon and his staff to help me keep on the right track and never take for granted the new lease on life I have been given. I lead a local support group and lean heavily on them for strength and support to stay inspired in my continued weight loss/maintenance. I must say that Lap-Band surgery is the BEST thing I have ever done for myself. 
I am now back riding horses with my daughter, something I had always wished I could do when I was overweight. I am much more active and find myself able to do things I never dreamed of doing when I was unhappy and overweight. I am enjoying a new special someone in my life, seeing my kids off to college and enjoy a great career. Life sure is good…and being a normal weight now has to be the best part of all!